Katherine Clifford reviews the annual West African Drumming and Dance Concert, held on Friday, May 11, 2012.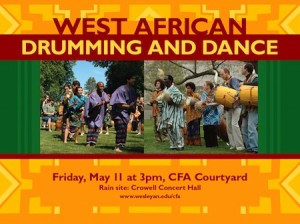 The West African Drumming and Dance Concert was held on Friday, May 11, 2012 in the CFA Courtyard. West African Dance classes I, II, and III, taught by Artist in Residence Iddi Saaka, performed traditional West African dances with the accompaniment of the West African drumming class, taught by Adjunct Professor Abraham Adzenyah. The CFA Courtyard was filled with Wesleyan students supporting their friends, as well as professors and their families, on this warm Friday afternoon, the first day of reading period before finals. The upbeat music and dancing was the perfect anecdote for the stress accompanying impending final papers and exams.
The dances performed by the West African Dance classes were traditional dances from different ethnic groups of Ghana. These dances traditionally served different purposes; some were originally performed on special social occasions such as weddings or funerals, at times of war, or as harvest dances. The emphasis on tradition was also revealed through the attention to elaborate and colorful West African costumes.
The dances were composed of series of rhythmic movements set to the beat of the drums. Together, the dancers created a pulsating, collective energy that was contagious. Indeed, the audience cheered on the dancers and drummers, creating a supportive and energetic atmosphere. Although each dance was quite different, the style of West African dance consistently uses a lot of hip movements, stepping, and rhythmic motions. It also engages geometric patterns, in which the dancers moved collectively in circles and lines in series of repeated movements. The dances were largely about group movement to create certain feelings suited for the purpose of the dance. This was accomplished through mutual experience through movement. However, the individual was also showcased through solos and duets. Each dance contained twists and surprises that held the viewer's attention against the backdrop of the sustained rhythm of the drums.
The ensemble of dancing, drumming, and chanting created a culturally rich and dynamic experience. The performance was a fun and engaging way to end the semester; and both the Music Department and  Dance Department's events, as well as to showcase the hard work of all the students in these classes.