Rebecca Seidel '15 sits down with Professor of Art David Schorr to discuss his current exhibition in the Davison Art Center, "APOTHECARY (storehouse)." The exhibition will continue through Thursday March 8.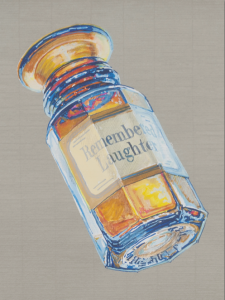 "For a problem that had been plaguing me, a wise ophthalmologist suggested I try artificial tears. In gratitude I made him a drawing of an apothecary bottle I had salvaged from my father's medical office, changing the Latin of the original label to the Latin for 'artificial tears.' I became interested in drawing more of these bottles and started to collect them on eBay. Because I had long wanted a place to put away cherished values or to hide shameful thoughts, I discovered to my delight that the Greek word ΑΠΟΘΗΚΗ, from which our word 'apothecary' derives, means storehouse. This project followed."
So indeed began Schorr's work on APOTHECARY (storehouse), his newest exhibition on display at the Davison Art Center.   All of the paintings in this exhibit depict antique apothecary bottles, modeled after actual bottles Schorr has collected from all over the world.  Executed with scrupulous detail, each bottle appears to be suspended mid-canvas, lifelike and gleaming with iridescent color.  But these are no ordinary medicine bottles, and they carry no ordinary remedies. Their labels say things like "Silver Linings,"  "Sleepless Nights," and "Stardust."  Plenty of the labels are in different languages, and plenty more allude to literary sources–Shakespeare and Keats among countless others.
The premise of the series (which amounts to more than 75 paintings) seems simple—but the bottles' vibrant colors and translucent depths, paired with the strange lure of their imaginary contents, give the entire space an aura that is both whimsical and mysterious.
"It really is meant above all to be fun, and, I hope, witty," said Schorr in an interview about his work. "But I am particularly pleased if the wit and the quality of the drawing seduces some people into taking certain bottles as personal metaphors, bottles they have in their own storehouse. This can be a source of pleasure in something precious or a source of shame or discomfort realizing they have a bottle they keep tightly sealed because its contents are best not thought about, or not sampled."
Phyllis Rose, Professor of English, Emerita, touches upon ideas like this in her essay entitled "Poetry in Bottles: Schorr's Storehouse." You can find this essay, which explores deeper meanings lurking within Schorr's work, in a catalogue available in the exhibition room.
Schorr created these pieces using gouache and silverpoint on colored Fabriano Roma paper, a rare type of paper that he went to great lengths to secure.  He found the apothecary bottles through searches on eBay.  "Often they came in groups," he said. "On the whole, once I had a particular style in a particular color that was fine and I didn't need a duplicate, but I became very tuned in to subtle differences, especially the relation of the sides and neck to the slope of the shoulders."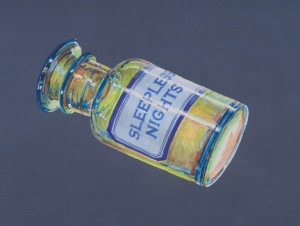 He added, "Sometimes there would be a bottle that looked great, but opening the package I found it disappointing, but also the reverse. Some bottles really came to life only when I posed them and started to draw them."
Schorr now has a vast collection of antique bottles, quite a few of which are assembled on a shelf in the exhibit.  Seeing these bottles in real life, in such a huge array of colors and shapes and sizes, adds to the striking effect of the exhibition as a whole. "I'm not certain what I am going to do with them all now, when the show is over," he said. "I will probably keep a few treasured favorites and sell the others back on eBay."
You can tell just by looking at the work in this collection that it took lots of time and attention to detail.  "Some of the best [pieces] were very spontaneous, finished in less than a week, others as long as three weeks," said Schorr.
Venturing behind the scenes of his artwork, Schorr said, "I love finishing a picture late at night. I typically work until 3 AM, and when I finish a picture, I turn my easel to face the couch where I can stretch out and make myself a glass of juice with chopped ice and light the picture and put on a playlist of twenty or so different recordings of "Vissi d'Arte, Vissi d'Amore" from Tosca by Puccini and sit and look at the picture. About half the time I see tiny things I wish to change and do. But sometimes I just make a list of them and fix them the next day. I always think it's too bad I don't smoke, as that would be the perfect time for a cigarette."
The longer you linger around the exhibit, wandering through this makeshift "storehouse," the more you'll appreciate the bottles' mystique: even though they are right there in front of you, you will never be able to open them and sample their contents for yourself.  It's up to you, the viewer, to derive meaning out of what you see.  Contemplating what lies within the bottles is not only a compelling experience; it can also be a deeply personal one.
APOTHECARY (storehouse) will remain at the Davison Art Center through Thursday March 8. After that, it will move to the Mary Ryan Gallery in New York City.