Jack Chelgren '15 interviews cellist Joshua Roman to discuss his upcoming performance at Crowell Concert Hall on Friday, November 18.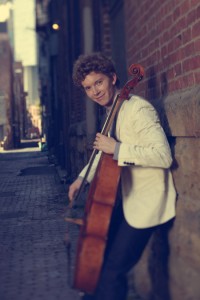 This Friday night at Crowell, wunderkind cellist Joshua Roman will play his début concert at Wesleyan, performing works by Debussy, Brahms, Astor Piazzolla, and contemporary composer Dan Visconti.  Lauded by critics as "a musician of imagination and expressive breadth" and touted by Yo-Yo Ma as an "[exemplar] of the ideal 21st century musician," Mr. Roman has quickly become one of the most important and celebrated young figures in classical music.  After winning a spot as principal cellist in the Seattle Symphony at the age of 22—the orchestra's youngest principal in history—he went on to launch a successful career as a soloist while continuing to work in chamber and symphonic settings on the side.  In 2007, he became the artistic director of Town Hall Seattle's chamber music series, TownMusic, and in 2009, he participated in the YouTube Symphony Orchestra, where he was the only artist featured as a soloist during its premiere at Carnegie Hall.  Yet Roman isn't one to keep music confined to the concert hall, but has been extremely active in working to make music accessible to an immense variety of people, from Chinese President Hu to victims of HIV/AIDS in Uganda.  Just this past year, he was named a TED Fellow in recognition of his unprecedented achievements and his contributions to the ongoing vitality of the art form.
I had the opportunity to speak with Mr. Roman over the phone this week, and peppered him with questions about a multitude of topics, ranging from the experience of being the youngest performer in the Seattle Symphony to his views on making distinctions between musical genres.  I came away with an impression that corresponds exactly to Yo-Yo Ma's assessment of Roman as a musician who is "deeply grounded in a classical tradition," but also "a fearless explorer of our world."  In Roman, I learned, there lies a singular balance between a progressivist and a purist; he's the kind of artist who's interested in new ideas and forms but still retains a deep regard for the foundations of his tradition.  Which isn't so strange, for as he sees it, the two are not so different.  "It doesn't feel like a stretch," he told me, when I asked him about the challenges of working in both current and more archaic idioms.  Indeed, Roman isn't so much concerned with genre—or anything, really—as with the unique character of a work itself.  "There has to be something I connect to," he explained.  "It comes down to certain qualities: A balance of emotion, content, and message; interesting structure, and creativity in form," all of which are features that piece from any era or background might have.  "We love to categorize," he went on, but noted how most categorizations of music are based on rudimentary aspects like characteristic beats or instrumentations.  Instead of this, Roman suggests, we might try categorizing music based on its emotional message, which often speaks to the essence of a piece better than any particular musical element.  "There might be more differences between Bach and Stravinsky than between Debussy and Miles Davis," he concluded.
It is this same ethos—one that favors grouping works by their emotional timbre instead of by accepted genre distinctions—that Roman adopted when designing the program for Friday night's concert.  Taking Dan Visconti's Americana as his starting point, he sought out works of a highly nationalistic character to accompany it, for Visconti's piece, as its title suggests, is an exploration of American style and influence.  He chose these pieces for their similarities to Americana; by associating the piece with such familiar masterworks, Roman hopes to demonstrate Visconti's deep comprehension of classical form, his talent for crafting musical narratives.  Accompanied by pianist Andrius Zlabys, Roman will perform cello sonatas by Debussy and Brahms, Piazzolla's Le Grand Tango, and the middle three movements of Americana.  This is not a night to miss.
Click here to watch Roman collaborating with DJ Spooky on a cover of Radiohead's "Everything In Its Right Place."  The performance was realized as a part of the Voice Project, a benefit for women war victims in Northern Uganda.