Katherine Clifford '14 reviews the Fall Faculty Dance Concert, "Probin'."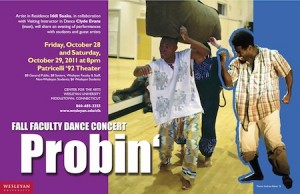 "Probin'," this years' Fall Faculty Dance Concert, was an exhibition of dance as a story-telling form and probed into the concept of how environment shapes identity. Iddi Saaka, Artist in Resident and West African Dance instructor, and Clyde Evans, Visiting Instructor of Hip-Hop dance, were the two faculty members whose choreography was featured in the performance. Iddi Saaka performed on Friday and Saturday night along with Wesleyan student, Rachel Fifer '12 and grad student Menherit Goodwyn. Clyde Evans performed in the Saturday night performance only, but fellow Hip-Hop dancers from his Chosen Dance Company of Philadelphia were featured both nights.
Iddi Saaka's use of media, props, and costumes in his piece, "Out of Place," was particularly strategic. This led to a rounded piece that was grounded in reality, while layered with metaphor and myth. Saaka used film footage from his village in Ghana to introduce different aspects of his dance and their underlying meanings. His message was a political and economic one; through interviews of people of his village and the manifestation of their ideas through movement, Saaka explored the disparity in wealth between Ghana and the West.
According to Ghanaian myth, at the beginning of civilization, Africans were distributed wealth by God in a hat, whereas Westerners received their allotment of wealth in a large burlap sack. Saaka portrays this myth through dance, demonstrating the large economic disparity, which results in feelings of resentment and competition. It ultimately leads to the exploitation of the Africans by the Westerners who insert themselves into and dominate African commerce and business. Rachel Fifer, who represents Western business, carries an abundance of metaphorical wealth in a huge burlap sack that is too heavy for her to carry. Fifer exploits Saaki and Menherit Goodwyn, who are desperate for money, to carry the bag for her. Fifer's dance style is more lyrical than the others'; she moves freely in her prosperity while Saaki and Goodwyn move tightly and rhythmically, weighed down by the burden she has created for them until they finally collapse under the weight. This was a fun dance set to upbeat and rhythmic music, but it was similarly laden with heavy meaning. There were two major threads: the exploration of the connections between the West and Ghana economically and politically, and Saaka's own struggle with identity as he moves from Ghana to America.
Clyde Evans' pieces were interesting stylistically in conjunction with Saaka's dance. Although from two different dance backgrounds, the two artists share a similar personal story of immigration to the U.S. (Evans is originally from Trinidad), which shapes their conceptualization of identity, and subsequently, their choreography. Evans' "Egyptian Ballet" was a fun piece that merged cultures and styles of movements, inserting poses inspired by Egyptian Hieroglyphics into a Hip-Hop number. His work "Bros. Duet" exhibited two friends dancing together, representing the spontaneity, improvisation, and collaboration in Hip-Hop. "Don" ended the show with an explosion of pure, fun movement, showing the athleticism, creativity, and freedom of movement in freestyle dance.